HOW IT WORKS
Forward to Schedule
Scheduling meetings via email is easy as forwarding an email to your Sidekick.
Forward the email to your Sidekick
Sidekick has powerful language processing and machine learning. When you receive an email requesting a meeting with you, just forward it to your Sidekick.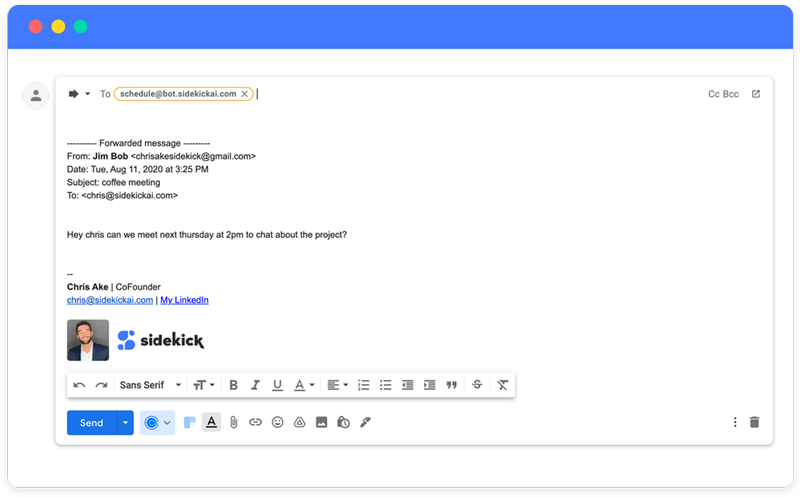 Sidekick will confirm it has received the email
Sidekick will confirm with you it has started the scheduling process. Sidekick will also email the guest on your behalf to coordinate the meeting for you.
Your meeting will be scheduled soon
Sidekick will then analyze your availability and verify if the date and times work from the email request.
If available, Sidekick will instantly book the meeting, send the guest a confirmation and add it to your calendar.
If not available, Sidekick will email back the guests to have them complete the meeting request. They will click the button and pick a time from your Scheduling Page.
Stay productive, let Sidekick do the work
Sidekick will do the tedious things while keeping you organized.

Reminders
Sidekick will send reminders prior to the meeting.
Calendar
Sidekick creates a calendar event for you automatically.
Invites
Sidekick also sends out meeting invites to everyone.