HOW IT WORKS
Scheduling Pages
Sidekick Ai offers users the ability to create custom scheduling pages to share with guests for quick scheduling.
You can create personal pages and team pages.
Customize your scheduling pages
Easily set up each page with custom availability, meeting type permissions and unique preferences. You have complete control how users schedule with you.
Setup Team Pages for easy group scheduling
You can build team pages by inviting people to sync their calendars with Sidekick. This is great for group scheduling when a person wants to meet your team(s).
Add your favorite tools to Scheduling Pages
Connect some of your favorite tools like Zoom, Google Calendar, Outlook, and more to your scheduling pages.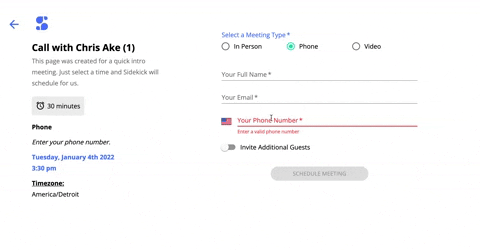 Allow your guests to choose how they meet
Sidekick Scheduling Pages actually allows you to offer up multiple ways to meet with you. You can offer up In Person, Video or Phone Call and allow your guests to pick what is best for them.
You can even offer multiple video options like Meets and Zoom or Teams and Zoom. Let your guests choose whatever they're more comfortable with.
Add your logo to your Scheduling Page
You can add your own logo to your Scheduling Page and remove the Sidekick Ai branding.
Stay productive, let Sidekick do the work
Sidekick will do the tedious things while keeping you organized.

Reminders
Sidekick will send reminders prior to the meeting.
Calendar
Sidekick creates a calendar event for you automatically.
Invites
Sidekick also sends out meeting invites to everyone.